Clay in the Classroom Part II
Glazing and Clay Coloring Techniques
Purpose: This professional development workshop will afford art educators the opportunity to learn about and experiment with different ways to glaze and color clay projects. The main objective of this workshop is to help teachers develop glazing and clay coloring skills that they can use with students in their classrooms. Teachers will choose the clay coloring methods they want to use to color the bisque pieces they made in Part I.* This workshop was designed at the request of participants of Clay in the Classroom Part I. They felt they needed some in-depth time using glaze and materials to color clay bisque.
Topics:
General glazing information
Using underglazes

when they are appropriate and how to use them
types of underglazes (e.g. pencils, tubes, French Dimensions, etc.)

Wax resist (and Mask 'n Peel)
Stenciling
Scraffito with engobes
Majolica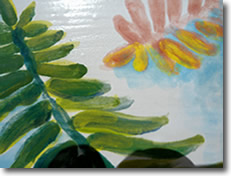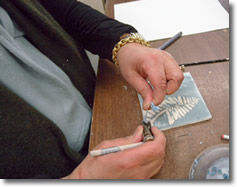 Prerequisite: Clay in the Classroom Part I (recommended so teachers will have their own work to glaze). *However, if you feel you do not need Part I and you have bisque pieces to color, you may take this workshop.
Time: Six 2-hour classes
Date: to be decided
Registration Fee: $120 (for 12 hours) plus $35 materials fee for glaze and/or paint, and firing and an extensive handout
Who: K-12 art teachers
Workshop size: Maximum of 4 participants per workshop