Beginners' Workshop: Discover Your Creativity
Both beginners and experienced students will discover their own potential for artistic expression through working with clay. Learn easy hand-building methods and transform your ideas into clay artworks. You choose your own projects and express your own individual creativity. There are endless possibilities and ample individual instruction. You will be amazed at what you can create! No prior experience is necessary! This workshop is a prerequisite for ongoing classes.
Topics covered in first part of workshop: (6 hours)
Demonstrations of pinch, slab, and coil hand-building methods will be given.
Project ideas presented (books and slides)
Resources (catalogues, stores, ceramics organizations, magazines, books, websites)
Necessary pottery tools and materials
Clay information (for example: what is clay, how to buy clay, how to wedge, etc.)
Glossary of basic pottery terms
Topics covered in second part of workshop: (3 hours—you will receive your fired art work that you made in Part I)
Types of glazes
Glaze application methods illustrated
Glaze brushing demonstrated
Ways to color clay without using a kiln
Time to glaze at least one of your projects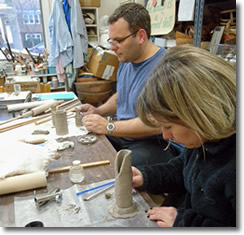 Who: Anyone 18 years or older—beginners welcome!
Workshop size: Minimum of 3 and maximum of 5
When: Days and times to be selected by participants—What works for you?
Suggested times: Part I is 10 a.m. to 4 p.m. (bring your own lunch) and Part II is a three-hour class (times chosen by group)
Registration Fee: $90 for workshop plus a $35 materials fee (for all the clay you use at this workshop, a bisque firing for all your work and a glaze firing for one of your pieces, glaze for one of your pieces, and a comprehensive handout). Total: $125. Payment in full is required to register.
Refund Policy: If a student needs to cancel his/her registration two weeks before the workshop, tuition will be refunded, except for a $50 non-refundable registration fee. NO REFUNDS WILL BE MADE AFTER THIS DATE.